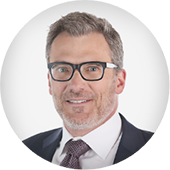 Meet Your Mentor
Darin Dichter, D.M.D.
Dr. Dichter brings nearly 20 years of clinical, research and teaching experience — as a general practitioner and prosthodontist — to his position with Spear. He serves as an instructor in the Treating the Terminal Dentition and Fully Edentulous Patient seminar, in addition to multiple Spear Workshops.
Dr. Dichter has served as a guest lecturer and clinical instructor at Oregon Health and Science University School of Dentistry, teaching occlusion and esthetics. He has been a Spear faculty member since the company's inception, as well as a contributing author for Spear Digest. He is passionate about education and is involved with multiple study groups in the U.S. and Canada.
After earning his D.M.D. from OHSU in 1995, Dr. Dichter practiced general dentistry and eventually joined a startup practice in his hometown in coastal Oregon before moving to a practice in Portland. He brought 16 years of restorative dental experience into UCLA's world-renowned, full-time advanced prosthodontics residency, which he completed in 2014.
Seminars with Dr. Dichter:
Treating the Terminal Dentition and the Fully Edentulous Patient
This two-day course will explore the essentials of treatment planning and implant restorative design for the patient with terminal dentition and/or a fully edentulous condition. It will provide guidelines that can be easily implemented in practice in order to help interdisciplinary communication between the restorative dentist, the surgeon and the laboratory.
"We give you a breadth of knowledge about many possible solutions and, based on what the patient is presenting with, which is most appropriate … so you have a clear understanding of what to do."
Darin Dichter