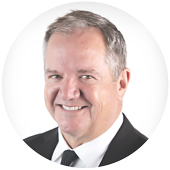 Meet Your Mentor
Frank Spear, D.D.S., M.S.D.
As co-founder and director of Spear Education, Dr. Spear continues to be recognized as one of the premier educators in esthetic and restorative dentistry in the world. He earned his dental degree at the University of Washington in 1979 and an M.S.D. in periodontal prosthodontics in 1982.
Dr. Spear has been recognized by numerous associations for his contributions to dentistry. In 1993, he was awarded the Christensen Award for Excellence in Restorative Education from the Chicago Dental Society. In 1995, the American Academy of Cosmetic Dentistry presented him with a special award for having advanced the art and science of cosmetic dentistry in the U.S. In 1996, he received the Saul Schluger Memorial Award for Excellence in Diagnosis and Treatment Planning from the Seattle Study Club. In 2003, he and colleague Vincent G. Kokich were awarded the first-ever President's Award for excellence in education from the American Academy of Esthetic Dentistry.
In 2004, Dr. Spear earned the Distinguished Alumnus Award from Pacific Lutheran University, where he earned his undergraduate degree. In 2013, he was named Distinguished Alumnus for the University of Washington School of Dentistry. In 2018 he received the first-ever Charles Pincus-Ronald Goldstein Lifetime Achievement Award in Esthetic Dentistry from the American Academy of Esthetic Dentistry.
In addition to his work at Spear, Dr. Spear is an affiliate professor in the graduate prosthodontics program at the University of Washington. He and fellow Spear Resident Faculty member Dr. Greggory Kinzer maintain a private practice in Seattle limited to esthetics and fixed prosthodontics. In addition to his faculty and practice responsibilities, Dr. Spear maintains a busy lecture schedule, presenting dental continuing education in North America, Europe and Asia.
Dr. Spear belongs to multiple dental organizations, including the American Academy of Esthetic Dentistry, the American Academy of Restorative Dentistry and the American College of Prosthodontics. He is also a past president of the American Academy of Esthetic Dentistry.
Seminars with Dr. Spear:
The Art of Treatment Planning and Case Presentation
Through the use of treatment-planning decision trees, gain confidence and understanding, knowing which treatment options are available for a number of common, but complex dental problems. Learn how to present the advantages and disadvantages of each option clearly to your patients, enhancing your relationship with them and their commitment to choosing what the best care is for them.
Creating An Inspired Vision for the Dental Practice
The dental practices' landscape has considerably evolved from what it used to be 20 years ago, not only from a clinical and technological standpoint, but also from a practice management perspective.

The seminar is intended to establish the importance of setting the dental practice's vision as well as building a solid team that enables consistent execution, which is paramount to ensure achievement of practice goals.
Demystifying Occlusion
Gain confidence and remove the confusion and fear surrounding occlusion in your practice, allowing you to treat patients more predictably and with less anxiety from a single second molar crown, to full arch restorations, or even patients with symptoms of facial pain.
"It's a seminar that's really designed to work well at showing teams how to think about the goals for the patient and the options for how to decide which of those (team members) might be involved with moving the teeth or the tissue to really set the case up for a beautiful result."
Frank Spear