Spear | Dental Continuing Education
The Pursuit of Great Dentistry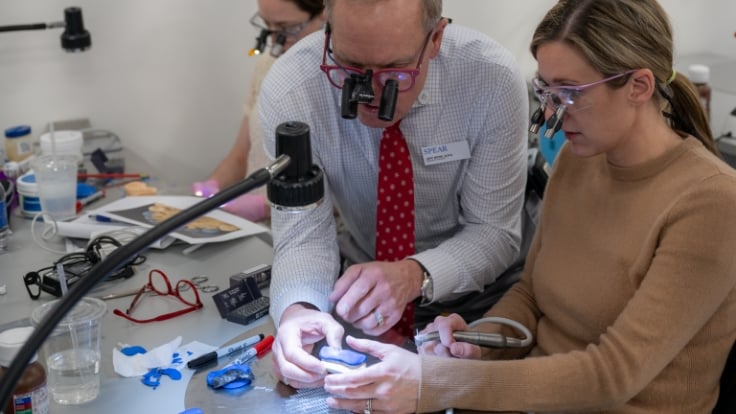 Known for high-caliber dental course content and innovative delivery, Spear Education makes it possible for dentists and their staff to achieve Great Dentistry. Located in Scottsdale, Ariz., Spear offers the full spectrum of in-person and online education and practice management resources designed to help dental practices provide the best quality of care to their patients and love what they do.
Online and Hands-On Workshops
Reach higher levels of clinical excellence.
With more than 12,000 members, 700+ Study Groups, 1,500+ of available continuing education courses taught by leaders in the dental industry, and our patented Practice Solutions approach, Spear is the industry leader in dental education and practice management solutions.
Spear's Online Education Platform:
Contains more than 1,300 CE-eligible clinical and practice management lessons, team training tools, and team meeting materials.
Patient Education App:
Features animated chairside videos that help patients visualize their conditions and confidently accept treatment.
Practice-branded lobby videos
Print-ready treatment plan documents
Hands-On CE Workshops:
Led by the most respected minds in dentistry and covering topics from Facially Generated Treatment Planning and airway to occlusion and worn dentition.
Spear Study Clubs:
Join an existing study club in your area or build your own using Spear's focused curriculum that will help you build your network and advance your skills.
Practice Solutions:
More than traditional dental consulting and analytics, our patented system combines top-tier education with powerful analytics and personalized solutions to help you reach your practice goals.